Resources
Additional Information
The American College of Veterinary Ophthalmologists (ACVO) was officially recognized in 1974.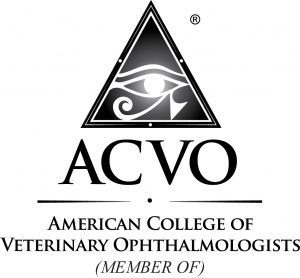 The purpose and objectives of the ACVO are to advance ophthalmology in all phases of veterinary medicine including training, continuing education, research, and practice. By setting high standards for membership, the ACVO selects individuals that will help reach and maintain their purpose and objectives.
To become a Diplomate, a person must first graduate from veterinary school, attain a minimum of 12 months full-time clinical practice as a veterinarian, and complete a 3-year or longer residency training program in veterinary. The applicant then is permitted to take the ABVO certifying examination. The exam is a multi-day process consisting of multiple written and practical components. After successfully achieving all of these criteria, a veterinarian is recognized as a "Diplomate of the American College of Veterinary Ophthalmologists" and is board-certified in veterinary ophthalmology.
There are only approximately 450 active Diplomates of the College of Veterinary Ophthalmology worldwide.
For more information visit this link
---
Other Resources
Websites for Care of Visually Impaired Pets:
---