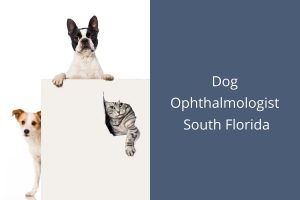 Just like people, dogs can suffer from a wide range of eye-related problems. From eye injuries and infections to glaucoma, cataracts and corneal ulcers, there are many issues that could damage your companion's vision and even have a negative impact on their overall health and well-being. It's important to seek prompt veterinary care as soon as you notice any potential problems involving your pet's eyes or eyelids. Eye problems are often emergencies, and the sooner you address them, the more likely that your vet will be able to prevent long-term damage. If your pet is in need of a dog ophthalmologist in South Florida, we can help. At Animal Eye Doctors, we offer a complete range of eye-related services for pets throughout the Estero, Fort Myers, and Naples area. 
Signs Your Dog Needs an Eye Exam
It's important to regularly take a look at your dog's eyes, and if you notice any changes make sure to contact a veterinarian right away. Common signs of trouble include: 
Redness

Swelling

Excessive discharge, crustiness, or watery eyes

Different size pupils

Cloudiness
Pay attention to your dog's behavior, too. If they are frequently pawing at their eyes, this could indicate an injury or foreign matter in the eye. If your companion starts bumping into things, he or she might be having trouble seeing. If you notice any of these signs and symptoms or you have any other reason to suspect a problem with your dog's eyes or vision, schedule an appointment. 
Dog Ophthalmologist in South Florida
Many general veterinarians are not equipped to deal with problems involving the eyes or eyelids, especially when they are serious. For this reason, your vet may refer you to a specialist, such as us here at Animal Eye Doctors. You can also reach out to us directly if your pet is in need of a dog ophthalmologist in South Florida. Our primary concern is ensuring the health and wellness of pets, and we gladly accept both referrals from veterinarians and patients whose owners have contacted us directly.  We provide a complete range of eye care services for dogs, including diagnosis and treatment for several conditions and diseases. If you have any reason to suspect that your pet may need to visit a doggy eye doctor, contact Animal Eye Doctors today or ask for a referral from your veterinarian.